STAY TUNED HERE FOR CANONIZATION DETAILS
March 2021, from the desk of Rev. Stephen Alcott, O.P., Pastor, St. Patrick Church
At long last, it is my great joy to share with you the good news you have so long awaited: our friend, Blessed Margaret of Castello, will be canonized a saint!
As you may remember, last fall our Dominican friars in Rome who promote the causes of Dominicans for beatification and canonization submitted the Positio, the official case for the canonization of Blessed Margaret, to the Holy See. This Positio incorporated a report of devotion to Blessed Margaret that I sent to our Dominican friars in Rome last spring, and an important part of that report was the evidence of your devotion as members of the Blessed Margaret of Castello Guild. I reported that there are at present 1,261 people on our mailing list, and that in response to this Novena letter, we regularly receive in excess of 200 letters annually in reply with requested prayer intentions. I also summarized some the favors that have been reported by you in response to your prayers that you have entrusted to Blessed Margaret's intercession. So, you have helped Blessed Margaret's cause, and later this year we will lovingly begin to address her as Saint Margaret of Castello!
I have not received many details about the canonization, or the miracle through Blessed Margaret's intercession that was officially approved for her canonization, but I have received the information that Blessed Margaret of Castello will be canonized a saint on September 19, 2021, in Castello, Italy.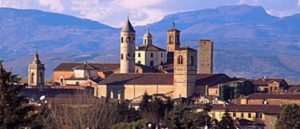 April 13, 2021 will be the 701st anniversary of the entrance of Blessed Margaret in the Communion of Saints, when for the first time, after a life without physical sight on earth for 33 years, she beheld Christ face-to-face in the beatific vision. So, our annual novena for the intentions of the Blessed Margaret Guild this year begins on April 5, Easter Monday, and ends on her feast day, Tuesday, April 13.
Along with your prayer intentions that you will entrust to Blessed Margaret for her humble but powerful intercession during this Novena, let us pray in thanksgiving to God for this great honor of the Church for our friend Blessed Margaret, and in thanksgiving for the decision of our Holy Father Pope Francis to approve the canonization of a relentlessly joyful young woman who could not be overcome by the physical challenges she carried from her birth, by the rejection of those closest to her in her own family, or by the challenges of starting over again with nothing in the (then) strange new city of Castello. I can easily imagine that Pope Francis sees in Blessed Margaret an important gift and tremendous witness for our own times, especially for those who are unwanted or whose lives are of little value to the world. Let us pray that many, many more people will come to know her as their dear friend and powerful patron.